Welcome to my first vacation in Japan
Diary
This diary is a work in progress. Only a few days have any text yet, and that text has not been edited yet - so it is kinda a first draft stilll and sometimes just words to jug my memory...
The first trip to Japan was special. It tended to imprint itself on ones mind much more stronger than the following times. I can remember, even after nearly a year, quite specific small details and the feelings I had at those moments. Hence this diary is actually a bit more detailed than the following one from the November 2007 vacation, although this diary was written after the second trip.
There are about 3 days per page, to reduce loading times, and the days can also be directly accessed fromt the menu on the right.
Starting here with the first days.
Sunday, March 18: Departure from Copenhagen
Preparations. First long-distance flight and vacation (11 hours approx.).
Good thing direct flight.
Bored and bored. Watching same movies and not really 'aware'. Later flights much much more bored..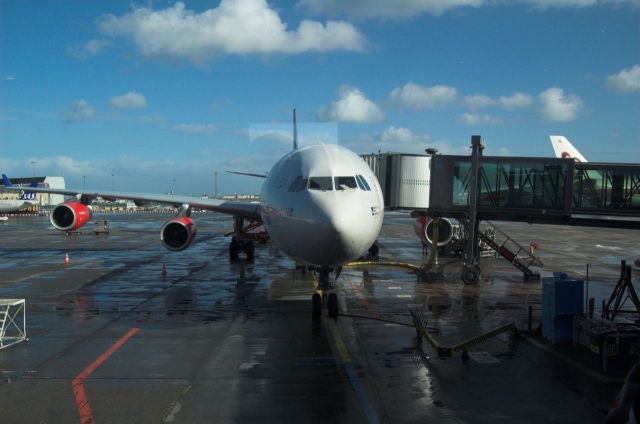 Excitement.
Monday, March 19: Tokyo
After a bit of a problem finding where to get ticket and the JR Railway pass. The first one asked actually specified it correctly but we did not get it the first time. I was beginning to feel the effects of the flight and not being able to sleep during it. So I had some difficulties understanding English when we were getting out passes. But we got them, found the train and were on our way to Tokyo Central Station with the Narita Express. When it hit me that I was in Japan, and for the following days I never got down from that Cloud 9 feeling.
Arriving at Tokyo Central we cleverly decided to walk to the hotel, because it was close by - sort of. With a bit of a help from a screen dump of the area from Google Earth and after harassing (in his view probably) some poor Japanese guy who had just stepped our for a quiet smoke and accidently ran into three Western tourists forcing him to speak English and think where the hotel they were looking for was.
In the end we found it and after a short unpacking and some water in the face and redistributing stuff into the daybackpacker for the walk, we left the Gimmond Hotel for some lunch and some neighbourhood sightseeing.
We walked along the small and narrow streets, stopped by a small lunch restaurant (probably catering to the local business men) and wondered how we were going to order our lunch. When the waitress came out to us, with 'sign' language made it clear that we were welcome and that we should point at the picture and show her what we wanted to eat. We did so, and she guided us inside, where there was a rather large automat (only with Japanese signs and no pictures), we gave her the approx. amount of Yen (she pointed to the dishes we had shown outside and we could see the price) and she put the money in and pressed the appropirate button and gave us the piece of paper indicating what we had ordered. Guided us then to a table and later brought us the food. I ordered some sort of curry dish which I wolfed down using chop sticks (a spoon woudl probably have been approprate as well), drinking tap water - which in retrospect could have been a bad choice, but there were no ill effects. Leaving we were greeted by the cooks and the waitress, concluding our first lunch in Japan as a very enjoyable experience.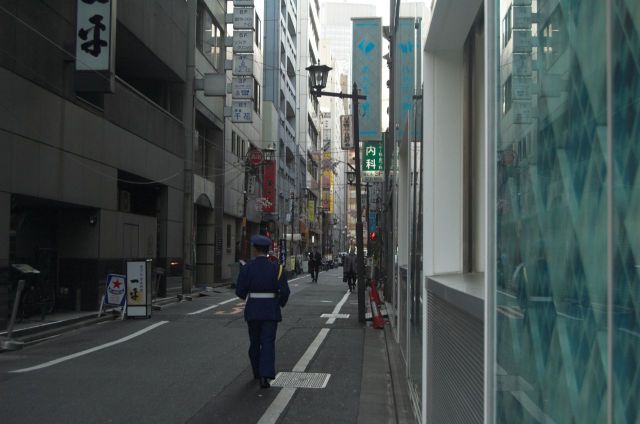 We then proceeded and walked a bit around and I don't think we meet any foreigners at all, which could be explained by us being in the office / government area, but in the following days would not meet that many foreigners, except for the few at the Hotel. This was nice, it may be hypocitrical but I like that it is now swarming with tourists.
We then ended up in a MARUZEN bookshop, where we spent some time browsing (and being noticed, don't think they usually have many tourists there) and ended up buying The Tale of Genji (or rather scenes with illustrations from the tale) which is dual languaged both in Japanese and English. To be honest I don't remember us going anywhere else.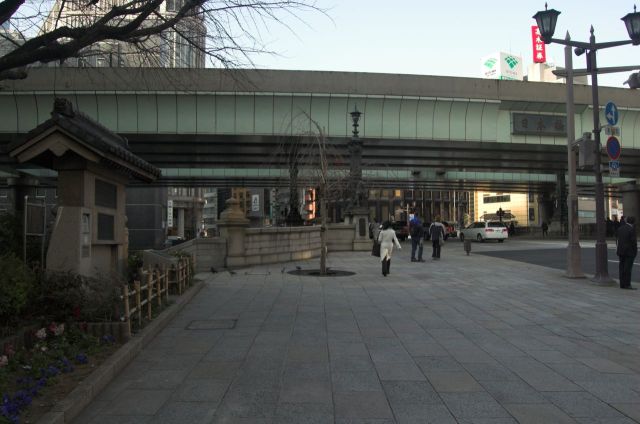 On our way back to the hotel we crossed the Nihonbashi bridge, it is the bridge below the road in the picture above.
Just across the bridge is a Starbuck's where I got a Cinnamon Coffee, rested a bit an tried not to bush out yet.
On the last stretch to the hotel we ran into a supermarket, where we shopped for primarily candy, chocolate and soda. It was rather fun trying to work our what the different things were. I started my addiction to strawberry flavored POCKY's here.
After a short rest (a few hours) at the hotel we took a cab (later on it was a rare occurence to take a cab to Akihabara as it was so close by) to Akihabara.
In Akihabara we then proceeded to walk up Chuo Dori and in and out of many shops. Found lots of interesting stuff and shops. Paralyzed by light and noise and forget all about where what was. Just remembered where the most reasonably priced Playstation3 and accessories could be found.
After some time we called it a day and walked back home and by now it was freezing cold but it is a rather short 10 minutte walk from Kanda river. Very close by the hotel is a 7-Eleven where we provianted a few sandwiches, milk coffee, Dr. Peppers and other neccessities. The most annoying is that I have no clue what they are saying so I have to reply politely in English based on primarily guess work.
It turned out to be invaluable to have this close by as I never time synchronized to I always woke up around 2-3 in the night, starving. So it was alway good to have a sandwich or two in the fridge for these times.
Raw and unsorted photos from this day are available
here
.
Tuesday, March 20: Tokyo - Shinjuku, Akihabara
The next morning I found out I could eat a lot in the morning (traditionally I have never been able to get much food besides youghurt and other fluid stuff down). I ate a rather large plate of scrambled eggs, meat balls, fish sticks and sausages, followed by a 'bolle' med strawberry and orange spread. For the rest of the mornings I continued to wolf these morning plated, even towards the end where the monotonomy of the food was getting to one self, I was still able to force it down, because usually around lunch my appetite was gone (the equivalent time of morning back in Denmark).
Greyish business area from Gimmond Hotel to Tokyo central station.
Tokyo central and groggyness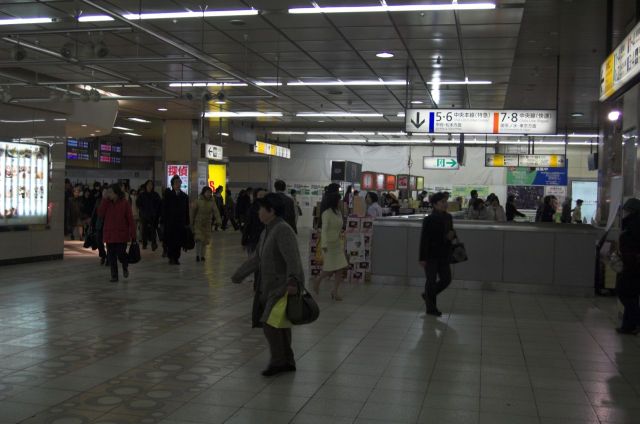 Shinjuku station.
On the way to the park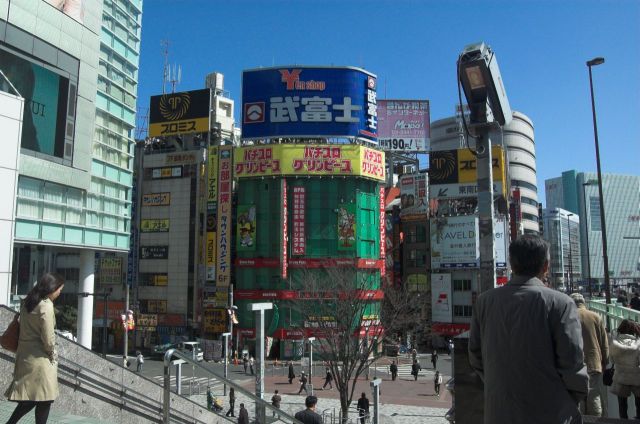 Woken up. Exiting Shinjuku station was like being hit with a very colourfull hammer smack in the face - in a positive way. I never recovered that day. Coming out of the south exit of the Shinjuku train station, we were greeted by an explosion of colours.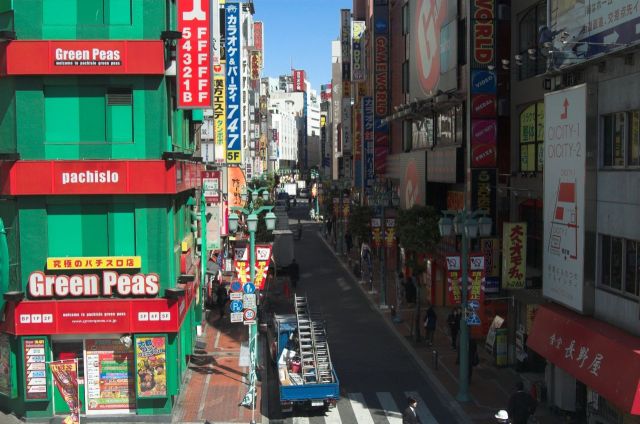 It was a stark contrast to the more mostly modest and pastel colours of Nihonbashi and the Tokyo Central area. We had visited Akihabara the evening before, but frankly I had little recollection of that, just a faint memory of colours and noise - I was simply to tired and groggy. It is of course only certain areas of Shinjuku, that seem to display these rather gaudy colouring schemes. These areas are to the left of the exit, which means it is towards north.
The picture above shows the street to the right of the green, red, yellow and blue building in the center of the first picture. The street and the colours lead to the 'entertainment' district of Shinjuku.
The colours of that day have left a lasting imprint, every time I think of Shinjuku, I remember all these colours.
Park
So we were all somewhat tired, and so at least for me, the memory of walking in the park remains a bit fuzzy. I can mostly remember focusing a lot on taking pictures, a lot of them, many identical and many with slight focusing problems and with a skewed angle. Somehow I managed not to take pictures upright that day, but with an angle of a few degrees, like I was leaning to one side all the time.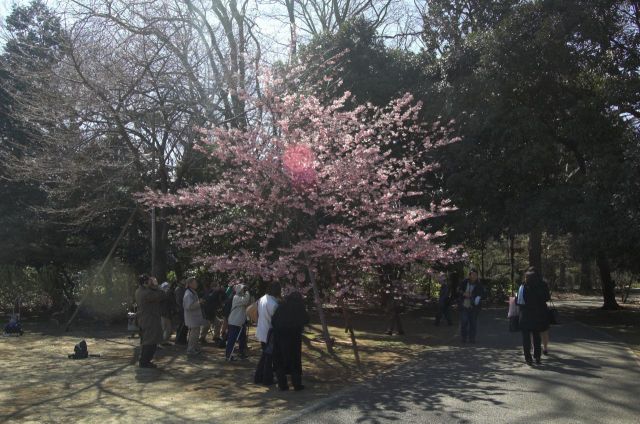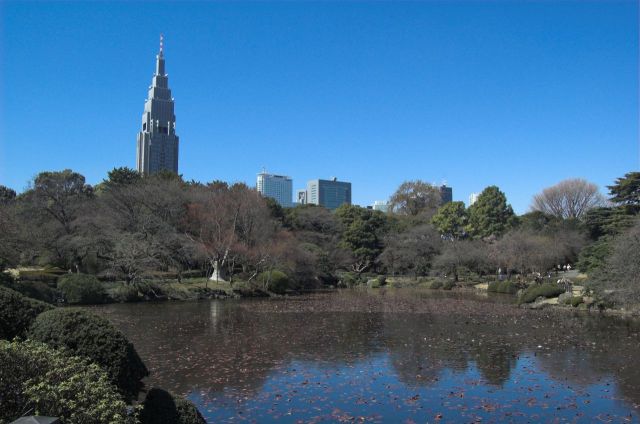 The tower, by the way is visible from Harajuku and farther, and is a very prominent landmark (if one gets high enough) for Shinjuku.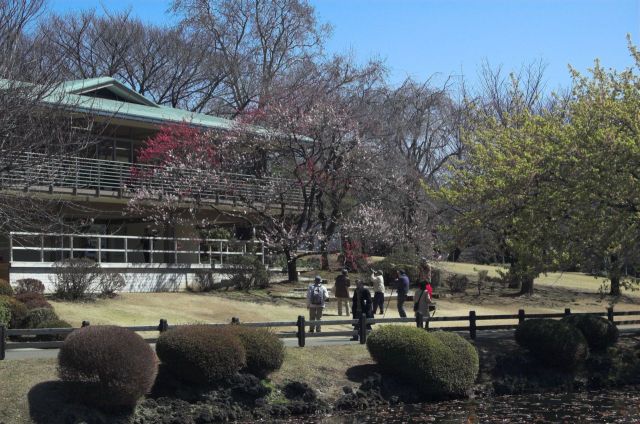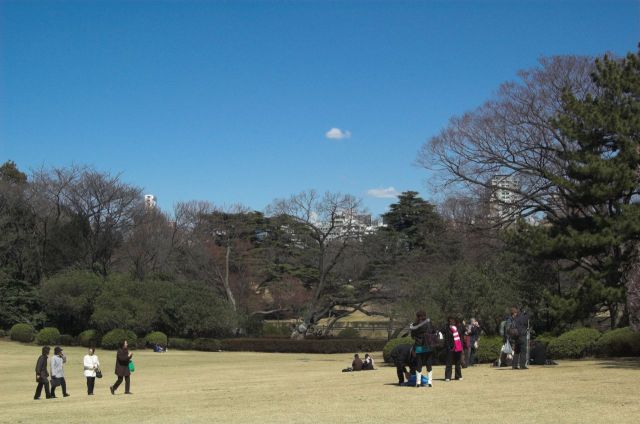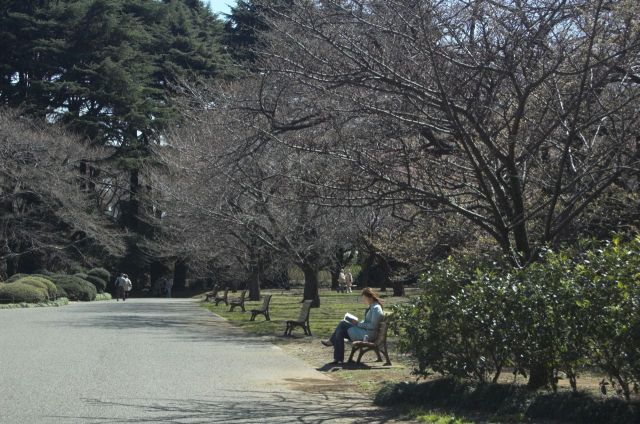 Back towards station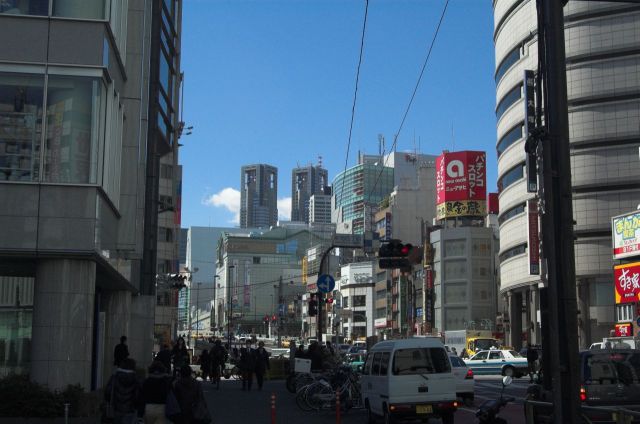 Shopping center and eating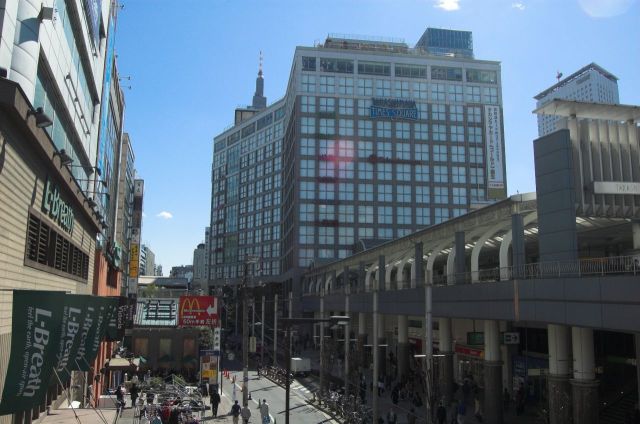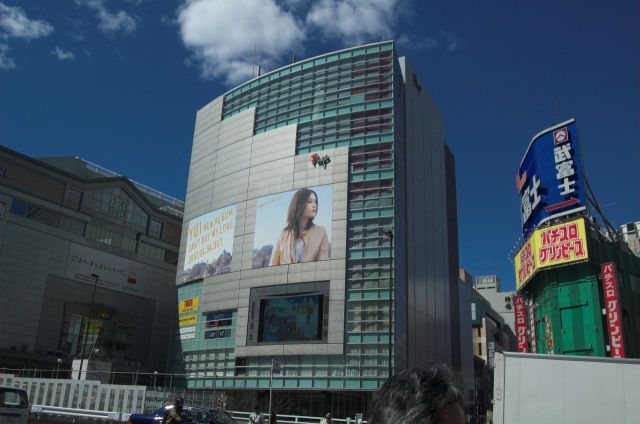 On the shopping department close to the station is avertaising for the new Yui album.
Hotel
Walk in the evening along the river to Akihabara (bought PS3)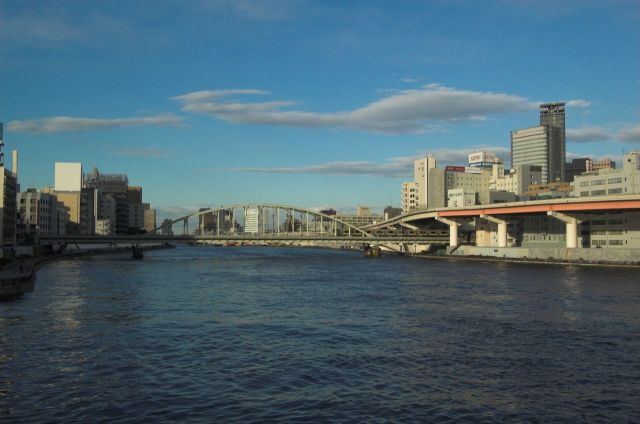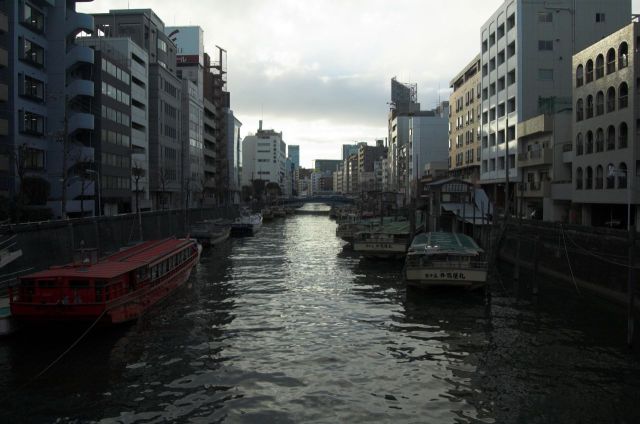 Kanda River.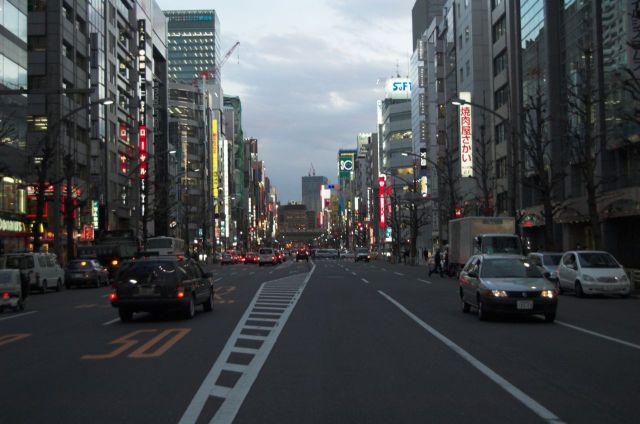 TBD
Raw and unsorted photos from this day are available
here
.
Wednesday, March 21: Tokyo - Ginza, Asakusa, Ueno
TBD
The 333m high Tokyo Tower observation tower building completed in 1958 (note: Always).
The Grand Observation Platform, at only 150m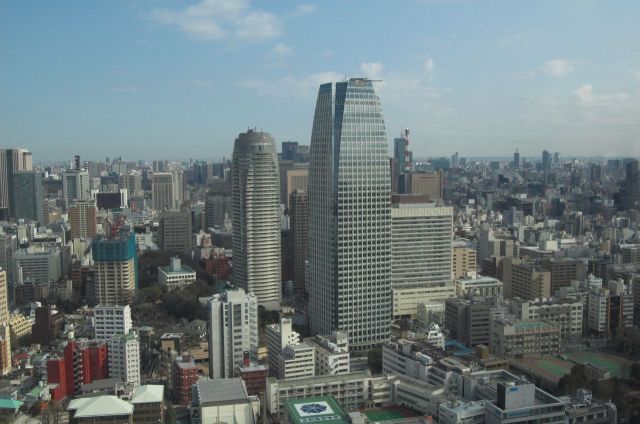 The high-rise building in front is the 42 story (187m) Atago Green Hills Mori Tower completed in 2001, which is primarily an office building. Behind it is the 42 story (157m) Forest Tower completed also in 2001. The buildings are part of the
Atago Green Hills
complex situated in the Minato-ku ward.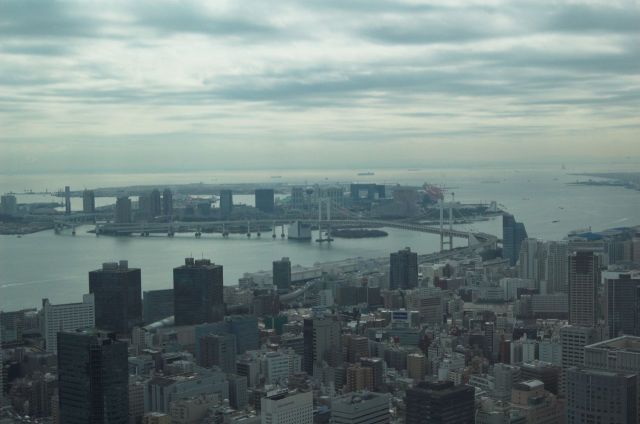 Special Observation Platform a further 100m up. Rainbow bridge and Odaiba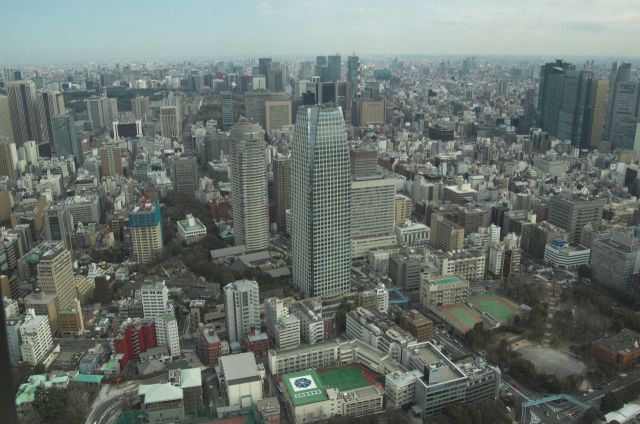 Again Atago Green Hills Mori Tower and Forest Tower.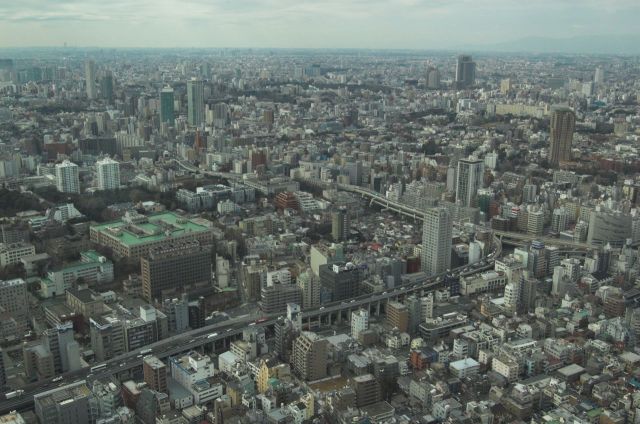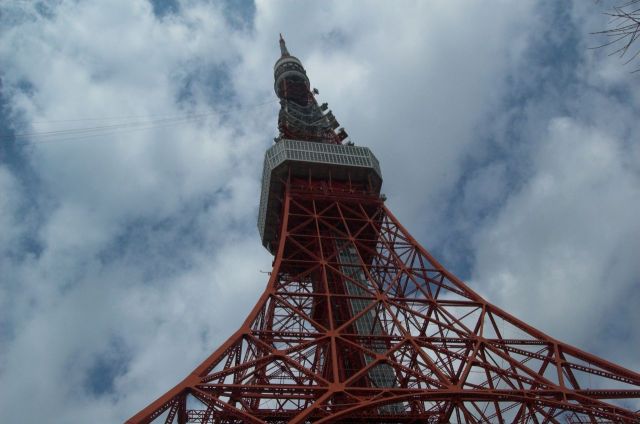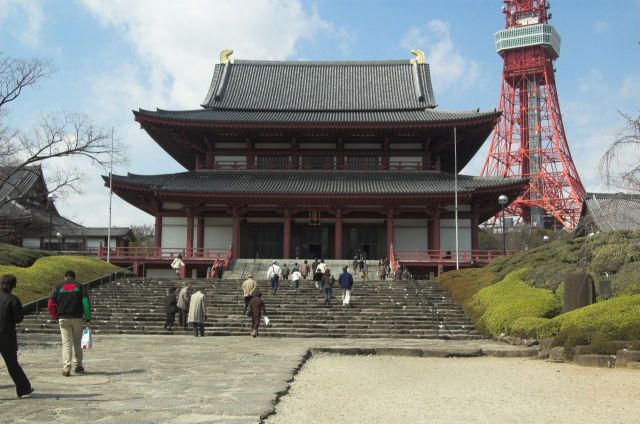 Close by Tokyo Tower is the Daiden (Hondo) temple, the main temple of the Jodo (Pure Land) sect of Buddhism established in 1175.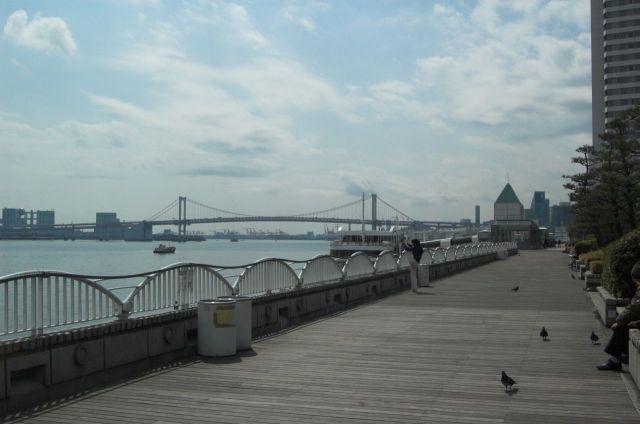 Rainbow bridge and very flexible young woman. and a couple of doves.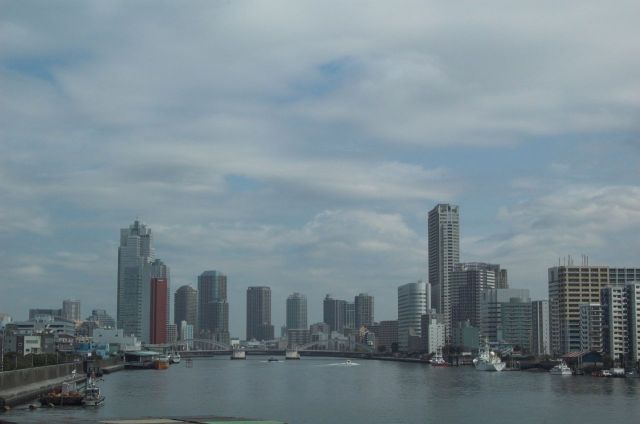 The group of high-rise buildings further out in the middle between the tall building to the left and right in the foreground is the
River City 21
complex in the Chuo-ku ward, the tallest building is 180m.
The tall building to the left I have no clue which one that is.
The tallest building to the right is the 42 story 155m tall Plaza Tower Kachidoki building completed in 2004.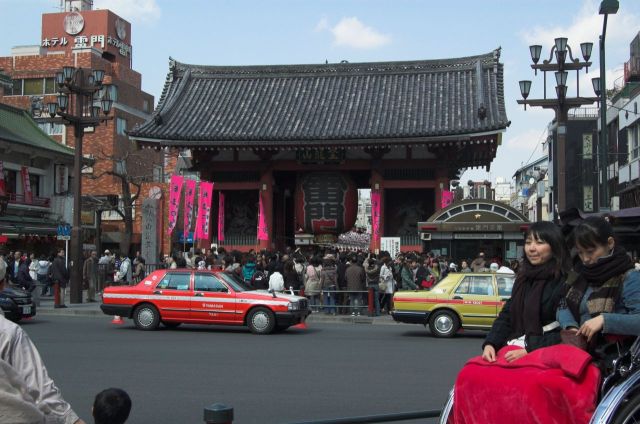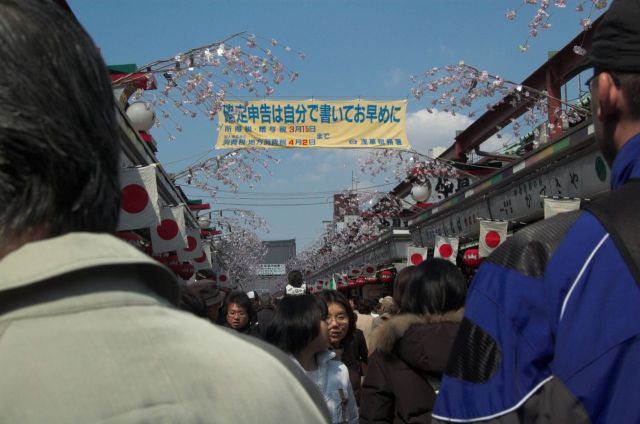 McDonalds incident.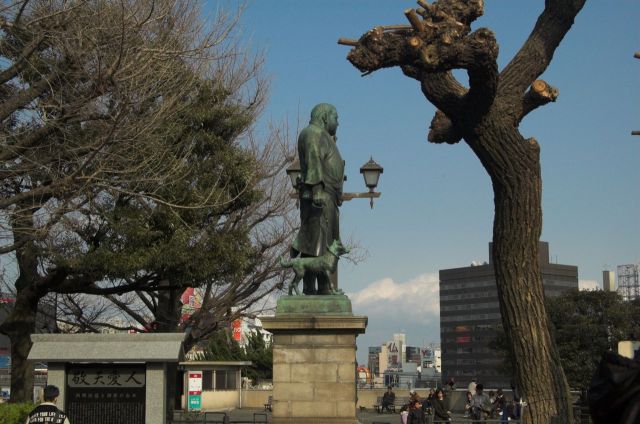 TBD
Unsorted photos from this day are available
here
.